Located in Mullingar, Co.Westmeath, the committed and dedicated team at Topline Mullingar Hardware share many valuable years of knowledge and experience in Hardware and DIY. We strive to offer our customers the best value for money and excellent services across a wide range of hardware, paint, home, fuel, and garden products.
Who We Are
Topline Mullingar Hardware employs 16 full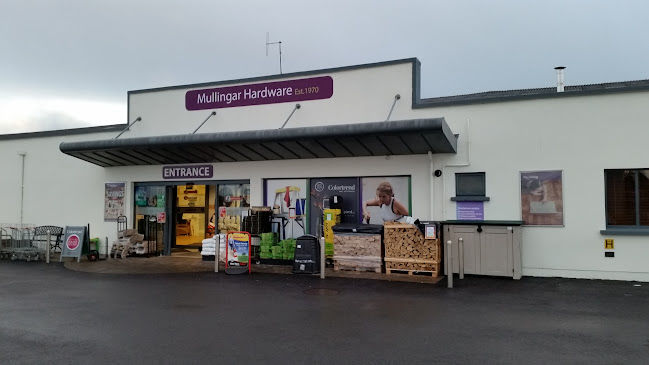 and part-time staff, most of whom have decades of hardware knowledge and  experience. We offer competitive prices and unmatched customer service. Topline Mullingar Hardware is proud to have been awarded the Octabuild Merchant Regional Award for Westmeath in 1999, 2009, and 2011. In 2020 we celebrated 50 Years In Business!!!  Our longevity and success can be primarily attributed to the ongoing support of the local community, our loyal customers, and our staff's dedication to providing exceptional advice, value, and service to our valued customers.
What We Do 
It would be easier to list what we don't do than what we do! We have a wide and varied range of stock,  we have all the products to start and complete any job, from foundation to decoration. On top of being a Builders' Merchant, we also carry a wide range of light hardware and household products. We recently refurbished our stove, doors, flooring, and bathroom sections, we carry and mix paint brands such as Colourtrend, Dulux, and Fleetwood. We also carry a wide range of fuel, home and gardening products. Customers are the core of everything we do. We know that without them, the business would cease to exist. If we don't have a product in stock, we will do our best to source it.
We offer a wide range of services such as paint mixing and colour consultation, key cutting, expert advice, and free quotation across our doors, floors, and bathroom sections, garden furniture and bbq assembly, and much more. We have free parking onsite and are happy to carry out to our car. For larger items, we offer a local delivery service.
Our History
Family-run since 1970, the business was founded by James Andrews and originally located on Austin Friar Street, Mullingar, Co. Westmeath. The primary focus was originally on just light hardware and building materials. David Andrews has been the store owner since the late 90s. The business has grown from strength to strength with David at the helm and with the valued support of the staff, his loving wife Amanda, and their children, all of whom have worked here during their school and college years. During David's tenure, the business has seen many re-developments. The shop floor and showroom areas have increased from 4,000 ft² to 14,000 ft². There have also been improvements made to the external storage areas that cover a two-acre site. Recently the shop has undergone a major expansion with improvements to the flooring, bathroom section, paint, and trade counter areas. We are sure the future is bright, with many more successful years in business ahead!
The local community
The Andrews family has long been associated with the building industry in Mullingar and nationwide for the last 50 years. Topline Mullingar Hardware has supported numerous local groups and charities through sponsorship and the provision of spot prizes. We have been the proud shirt sponsor for the thriving local soccer club, Mullingar Athletic, for the past 10 years.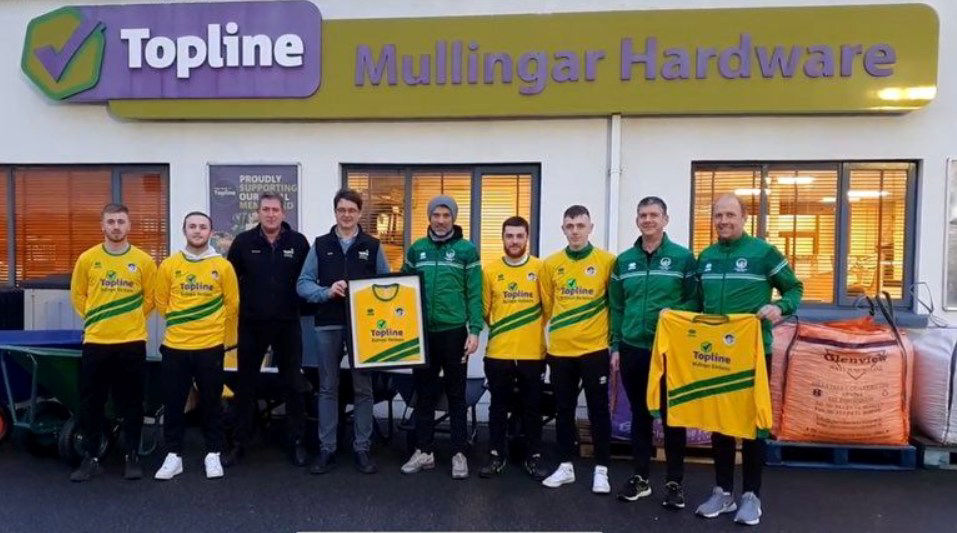 Topline Mullingar Hardware's staff members also have strong links to the local community; for example our Manager Diarmuid Donoghue is a former player and captain of Mullingar Athletic Football Club, and our Warehouse Coordinator Kevin Keegan was also club captain. Our Floor Manager Colin Pierce regularly participates in epic bicycle rides to raise funds for local charities.
The Topline Mullingar Hardware staff all come from the locality and have provided us with many years of service and dedication. Some of the team have been employed here for over 20 years.
The Topline group
Being affiliated with Ireland's biggest buying group, Topline has enabled us to continue to succeed and grow our business. This national buying group supports the core activities of independent hardware stores across Ireland. Being a member of the Topline group means we benefit from its bulk buying power, its relationship with the world's largest independent hardware group, and from its ongoing investment in marketing, staff training, and merchandising. Being a member of Topline allows Topline Mullingar Hardware to compete effectively with domestic and international chains, and to offer our customers competitive prices, more friendly service, and a welcoming shopping environment.
Proud Members of: